Bertzman Social Ventures partnered with Marketpath to design and develop A website for their new social venture capital company. Bertzman Social Venture's mission is:
"To provide growth capital and assistance to entrepreneurs working in the areas of food, water and housing with the dual goals of achieving a measurable social impact while operating a sustainable business that relies on earned income rather than donations and grants."
As a new social venture capital firm, there were no historical trends or data to help drive the strategy for the website. This made the Discover phase all that more crucial to the success of the website. Bertzman Social Ventures founders determined three goals:
be a leader in the social venture capital space
help social entrepreneurs connect and apply for assistanc
to discuss and advocate for projects or concepts that are important
Bertzman Social Ventures Website and Digital Marketing
With this, Marketpath advised a mobile-first design and developed website and search engine optimization (SEO) research and implementation to not only help to reach goals, but to cater to the backgrounds of the founders. Design The founders, being visionaries and innovators, specifically requested a mobile-friendly site estimating that more than 75% of the site's visitors would use mobile devices, as many would be from Africa or Asia, where mobile phones make up an even higher percentage of website visits than in the U.S. They also understood that responsive websites improve SEO rankings.
Other requirements for the site included featuring infinite scrolling, menus of four or less pages, an emphasis on Maslow's hierarchy of needs, and a clean-looking site with an emphasis on imagery.
From just a logo and a mission statement, a professional and modern site was designed with a nod to Maslow's pyramid in the form of angles in certain areas. A brand identity was born, and the founders requested that we create Microsoft Word and Powerpoint templates and business cards to match the website and brand identity.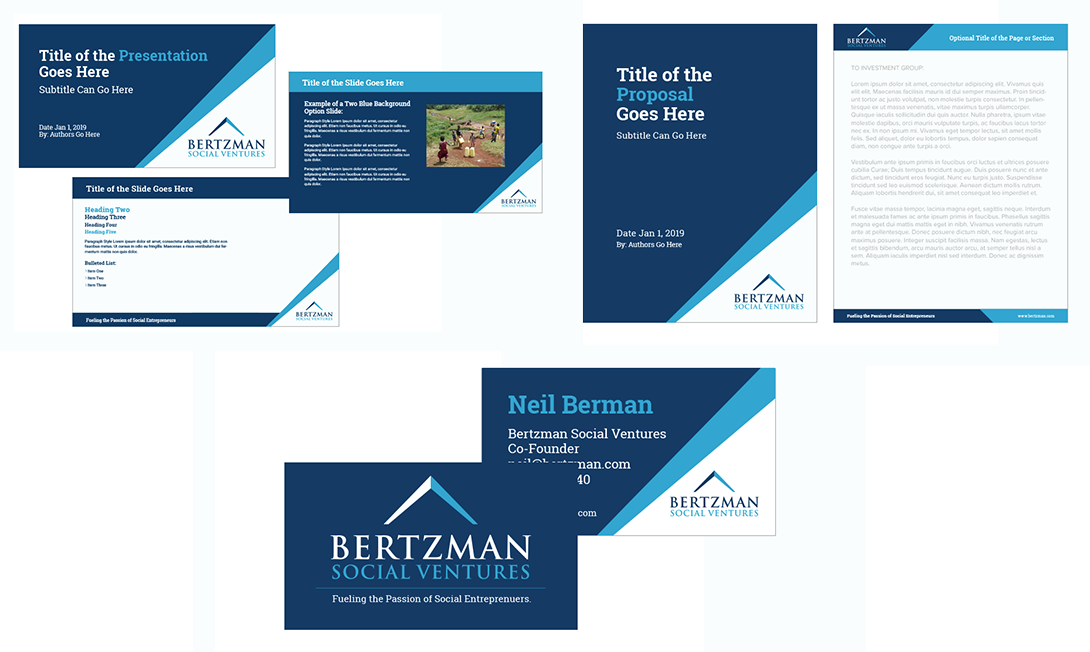 Easy Content Management
Development was done, but the client had an investor meeting in just over a week. Since content was managed by Marketpath CMS, content entry was a breeze and was done in about half the time of other CMS'. This allowed the client to see the preview link in one business day! A few rounds of revisions from the client and three business days later, the website was launched and live!
RSS Feed
Bertzman Social Ventures sought to discuss and advocate for projects or concepts that are important. What better forum than a blog as a platform for these discussions? Not only do the founders use their blog for social media marketing, but a RSS feed was implemented to provide additional updates to visitors. Bertzman will now be positioned as a resources for great, original content about social impact investing and consulting.
Flexibility
As a start-up social capital firm, the new website had to be accommodating once designed and developed. The initial phase was to launch the site with just the necessary information to create a stake in the industry. Options and flexible spaces were developed within Marketpath CMS to allow the content to adapt as the social enterprise expanded.
Search Engine Optimization (SEO)
The site was developed to attract Bertzman Social Ventures' various audiences. In addition to the measures mentioned above, Marketpath performed research to determine how each audience searches for the diverse services offered, and then developed the website with our own search engine optimization (SEO) best practices to increase the site's visibility.
Looking for More Information
If you have questions about Bertzman Social Ventures, please contact Bertzman Social Ventures or sign up for their RSS Feed. For questions about website design and development strategies, please contact Marketpath today.