C&T Design and Equipment Co. has been a client of Marketpath since 2010, when their first website was built in Marketpath CMS. In 2014, they opted to make the same website mobile-responsive, and chose to fully redesign and revamp their branding with a new, custom website in 2018. C&T Design wanted their new website to be more engaging and a new layout designed to balance their great content.
C&T Design is headquartered in Indianapolis, but they have offices throughout the country. A goal of the website redesign was to provide the satellite sales offices page that afforded personalization while retaining the overall messaging and branding of C&T.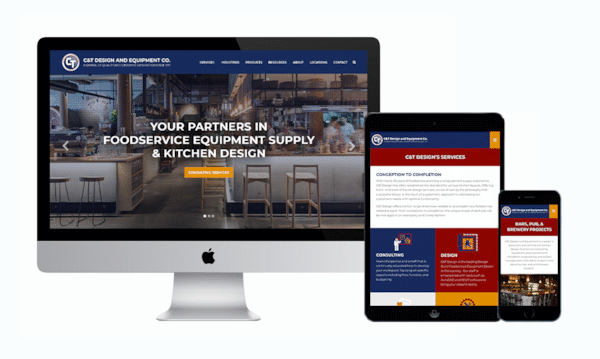 Website Design
The C&T Design team wanted a clean, simple, and contemporary design. During our discovery process, we discussed what C&T Design liked about their current site, other sites, and what the new website could improve upon. Marketpath developed wireframes of the new website, which would include a hero image to the fold, icons to represent their process, and a way to showcase testimonials, client they work with, and highlight projects.
The second most important part of their new website was bridging the gap that sales managers felt with corporate and vice versa. Each branch needed its own identity to showcase their own services, specializations, projects and other news about their office. Each branch page would feature a photo of the branch manager with contact information. The page would also have a form to collect leads, offer an overview of the office's services, and also provide featured projects, clients, and testimonials.
Website Development
With an emphasis on imagery, C&T Design desired the ability to showcase their portfolio of custom kitchen projects on their own site. Marketpath developed custom code that displayed images full screen on click. This was no simple feat, as images for each project were not the same aspect ratio, leading to an additional layer of development complexity. In addition to the images, the project testimonials ranged from 44 to 122 words. Marketpath's solution was to truncate longer testimonials on page, but allow website visitors to click on the testimonial, and then be able to scroll through all the configured testimonials!
The individual location or office pages were important to the C&T project team and were pivotal in the buy-in with the branch managers.The full screen images and testimonial functionality were used on these pages, but a few locations had more than one branch manager. Marketpath needed a way to feature the headshot of the branch manager and the specific contact information for each manager. Using custom development and Marketpath CMS' datastore functionality, a section of the page was created with auto-scroll functionality, as well as to allow visitors to manually click through the managers.
Easy Content Management
Content migration for over 300 blog posts and pages took just under 100 hours, including images, galleries, and PDFs. Marketpath CMS made entry and revisions from clients quick and easy. C&T Design's marketing manager was in the content management system within a day of training and clicking around like she had been using it for years.
Marketpath CMS' datastore and list functionality contributed to the ease and flexibility of adding and organizing content for the website. The locations/branch managers map is managed with the Datastore feature. The Office datastore allows content editors to fill out form fields which the developer renders as various parts of Location pages of the website.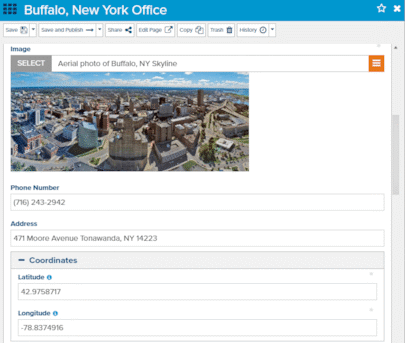 For this developed template, the image, phone number, address, and latitude/longitude are all elements content editors enter to create the Locations page. For the branch page, the goal was to create a "landing page" where branch managers can personalize the information to enhance sales efforts. To achieve this, the template also includes three WYSIWYG editors and four list entities. Lists provide consistency across elements, deliver additional functionality (as programmed by the developer), and quick content management (thanks to the lack of additional fields needed to display the content).
Search Engine Optimization (SEO)
C&T Design had already gone through the SEO Strategy and Keyword process with Marketpath, but a quick assessment was done due to business goals. With this, On-Page SEO tactics we updated and standard Off-Page SEO tactics were suggested, especially to boost the search results for the branch pages.
Looking for More Information
If you have questions about C&T Design & Equipment Co., please contact C&T Design. For questions about website design and development strategies, please contact Marketpath today.