Crossroads Communications Solutions' mission is to assist telecommunications service providers with designing and deploying fiber optics to expand or enhance their networks. Crossroads Communications Solutions (CCS) offers a full range of consulting and engineering services from concept to completion for projects including, but not limited to, rural FTTH deployment, metro network expansion, or enterprise long haul augmentation.
Crossroads was created in 2017 to service one fiber-to-the-home client for a rural town in Indiana. Through word of mouth, networking, and reputation, business leads have crossed state borders to include five states across the nation since starting the business.
The main objective of this project was to create a virtual presence for referrals to verify the company existed and had the capabilites the visitor was looking for. This website was a requirement for the company's owner to be able to expand nationwide as it lent to his reputation, experience, and expertise.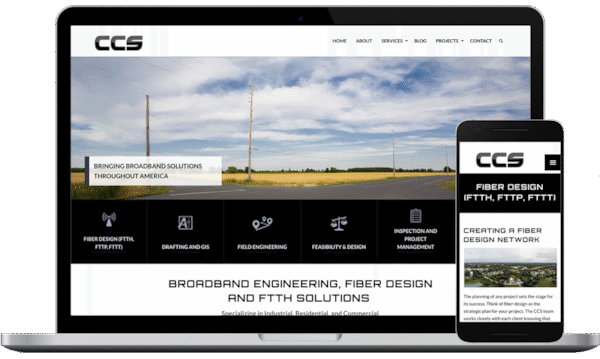 Website Design
During the initial strategy meeting, the Marketpath team determined that icons, media and videos, and a project gallery were important to the client. CCS' old Google site was created by the owner, and he wished to keep the monochromatic color scheme of black, silver, and white, which Marketpath's designer included in the design. Additionally, CCS wanted a clean, modern design that featured rural imagery, due to their simple beginnings.
Easy Content Management
The website design and development also needed to be flexible enough to grow and morph with the company as they expanded geographically and in service offerings.
Construction and engineering websites should showcase past projects or case studies, and the owner of CCS was set on highlighting past clients and services. With the footprint of the company growing, adding new projects had to be straightforward and quick. Content editors at CCS simply create a new page, select the "Project" template, update default content with the correct project details, add a few images (which programatically turn into an image gallery), click "Save and Publish", and the project is live on the new website.
Each service page features a project. Instead of forcing the content editor to use a WYSIWYG editor on each service page, each project page can be updated and the changes be distributed across the site. Should a different project need to be featured on the service page, then the editor only needs to go to the service page and change which project is featured.
As Crossroads grows, their navigation menu needs to transform with the company. All websites in Marketpath CMS use "Menus" area of the interface to create and manage the sites menu or menus. Adding new service landing or subpages can be done in a few minutes of time and seven clicks of the mouse.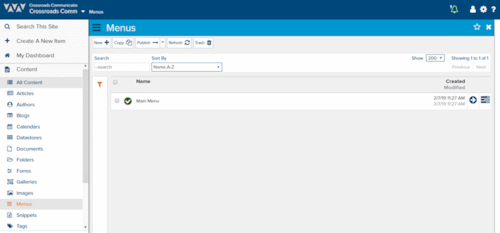 Search Engine Optimization (SEO)
CCS desired Marketpath's help with search engine optimization (SEO) because they understood it would help them to grow their business. As part of Marketpath's process, keyword research was performed and targeted keywords were identified. These keywords were implemented in the H1s, Browser Titles, Meta Descriptions, and within the content for search engine crawlers to index for search results. Additionally, blog tags were identified and implemented which helped CCS to understand discussion topics that were important and engaging for their target market.
Project pages not only are interesting to site visitors, but are ripe for on-page SEO tactics. By including these project pages on other pages, visitors are more likely to interact with the content which boosts pages/session and average session duration while decreasing bounce rate. These are all metrics that search engines use in their ranking algorithms.
Looking for More Information
If you have questions about Crossroads Communications Solutions, please contact Crossroads Communications Solutions. For questions about website design and development strategies, please contact Marketpath today.