Wabash Steel Company is an AISC Advanced Certified Bridge Fabrication (ABR) company that produces a wide variety of structural steel fabrication products used for bridge construction, vehicular highway traffic, railroads, and other industrial fabrication products. Their sister company, Lenex Steel, is a leader in structural steel fabrication industry. Marketpath had the opportunity to redesign both websites with emphasis on their fabrication projects and services to better highlight the companies' expertise and manufacturing capabilities.
Wabash Steel needed a new site that clearly highlighted the company's bridge fabrication experience and service offerings along with their culture. After meeting with the Wabash Steel team, Marketpath was able to identify core features that would improve their online presence and create future opportunities to attract new business.
The primary focus of Wabash Steel's new site centers around their bridge fabrication services: industrial fabrication, highway bridge fabrication, railway bridge fabrication, beam bridges, specialty bridges and steel fabrication services. Marketpath proposed a design that would highlight these distinct services through a project gallery and featured projects that could be highlighted throughout different areas of the site and easily updated via Marketpath CMS, our easy to use web content management system.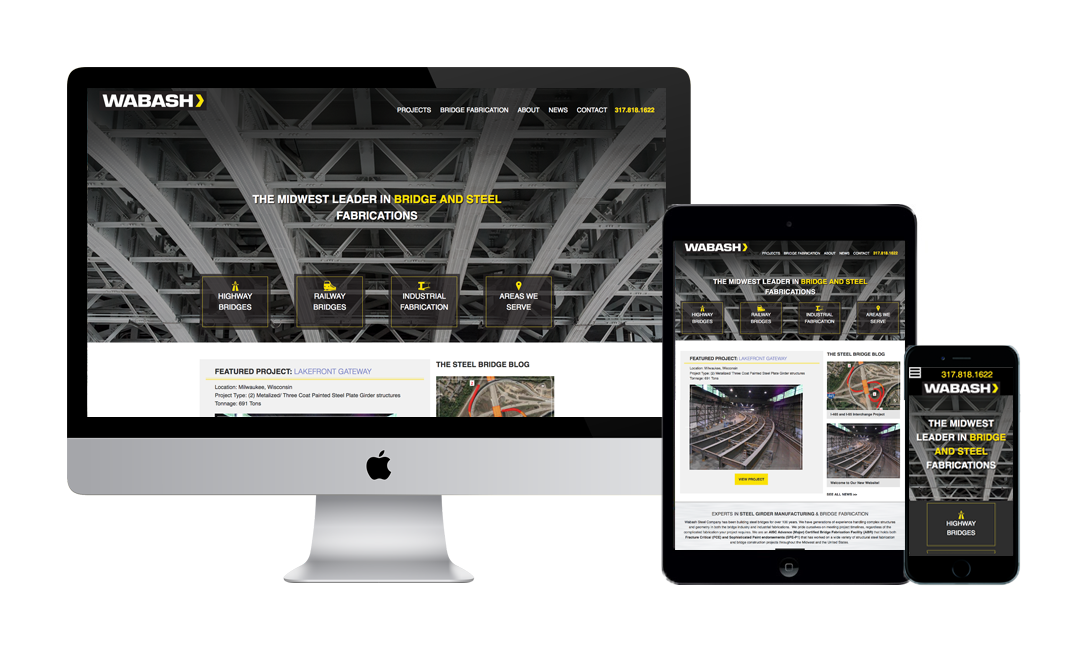 Working together, Wabash Steel and Marketpath developed their new site which included a number of added features:
Project Gallery — Wabash Steel's previous site lacked a full gallery that offered proof of the company's bridge and industrial fabrication experience. The old site featured some project photos, but offered very little in regards to the project details and complexity. Marketpath built a comprehensive project gallery featuring Wabash Steel's fabrication portfolio, broken down by location, project & bridge type, client, and size (tonnage), and services provided. The new gallery provides details that increase Wabash Steel's credibility as a leader in the bridge and girder fabrication industry.

The Steel Bridge Blog — Wabash Steel's old site wasn't optimized to capitalize on content marketing strategies. In the new site, Marketpath added an industry focused blog to assist with search engine optimization and better position the company as experts in the field.
Responsive Design — The new website has a clean, responsive design with improved functionality and content focused on Wabash Steel's fabrication services.
Search Engine Optimization (SEO) - Marketpath worked closely with the Wabash team to define their target audience and how they want their website to be found via search engines such as Google and Bing. As part of that process, we performed keyword research and helped them define their current and ongoing content marketing strategy, while also performing on-site search optimization.
Content Management System (CMS) - A main objective of the project for Wabash was to enhance their ongoing website marketing and to have a system in place that would make it easy for non-technical marketers and admins to update the new site moving into the future. Marketpath CMS is very easy to use, so various users on the Wabash team can now update the site without having to rely on more tech savy users.
To view Wabash Steel's new site click here.
learn more
For more information about Marketpath and our services, please contact us today.