There are many companies who have never considered creating social sites for their business. As a Social Marketing Manager this makes me cringe because I know without social sites they virtually do not exist as a company! I also understand that if you have never set up social sites for a company it can seem daunting. How horrible it would be if you set up something incorrectly, or so they think… I am here to show you that it isn't that difficult or terrifying to set up your company's social pages!
The most important and beneficial social site for a company is Google Plus.
Setting Up Google My Business
I believe Google is the most complex social network to set up. There are two things you need to make sure you have: 1. Your company needs to be claimed on Google and 2. Your company is set up on Google+.
Why is it most important? High Google Rankings are critical to a successful marketing strategy. Social shares have a high correlation with a higher google ranking. Higher google ranking equals increased traffic to site which equals ROI.
Google My Business platform is the location in which you will manage how your business appears across Google including search, maps, and reviews. It will be the location for your google+ local business page, brand pages, and search listings.
Step 1: Set Up Business Account
Go to google.com/business and click "Start Now." Enter the Google account you want to use to manage the account. If you don't have a Google account associated with your business, click "Create Account" below the login box and follow the instructions.
Step 2: Add/Claim Your Business
"Claiming Your Business" : Search for your business by name and address using the box in the top left-hand corner, and select the correct listing for your business or location.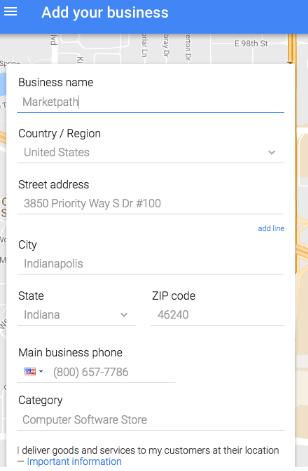 "Adding Your Business" : If your business isn't listed, make sure you check variations of the street address and phone numbers just in case it is in Google but listed incorrectly. If you still can't find your business, select "Add your business" or and you'll be asked to enter more information.
If you're setting up a new business listing and your company has a service area rather than a fixed location, be sure to check "Yes" under "I deliver goods and services to my customers at their location" and follow the instructions.
Step 3 Verify Your Business
Verify your business. You can do this by postcard or by phone. Typically they prefer a postcard delivered to your store. Keep an eye out for the snail mail to arrive within 7-10 business days. Once you receive the postcard with the verification code you will need to login and verify the business. If you don't verify the business within the alotted amount of time you may have to reverify your business through a different verifcation postcard. You only get a few attempts at this before your company is locked so make sure you take care of this step as soon as you receive the postcard. If you do not receive a postcard you will need to login again and request a new verification postcard.
Setting up a Google+ Business Page
Step 1: Select Page
There are 2 kinds of Google+ pages: local business pages and brand pages.
Brand pages are more focused on engagement without the contact information for your business. Lots of businesses and brands don't primarily operate through a fixed physical location, making brand pages a better fit for them.
A Local Business has a fixed location where you can add contact information, an address, and store hours. A business that serves an area would fall under local business.
Step 2: Get Your Page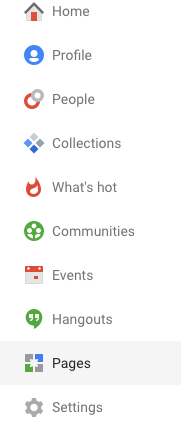 In classic google+: At the upper left of your personal Google Plus homepage, click on the "Home" drop-down menu and select "Pages." Select "Get Your Page." Once you reach the Create page, you'll see three options: Storefront, Service Area, or Brand. Select the kind of business page you want to start. https://business.google.com/manage/
Step 3: Verify Business
If Google can find your business's location on the map, select it. If not, go to the option that says "Add your business." (follow steps above for verify business information)
Step 4: Add Business Information
Next, add your information to the page. There are lots of ways to optimize your Google+ profile, and there's a progress bar to help guide you through it. Always consider SEO when coming up with content. Keyword-rich information is important. You'll also need to include the best contact information, and links to your website and social media platforms. Don't forget a profile photo and cover photo.
Step 5: Share Content
The final step to making your page complete: Start sharing content and engaging with others! Consider following clients and industry leaders.
still need help?
If you would like help setting up your social media for your business let us help! Contact Us Today.