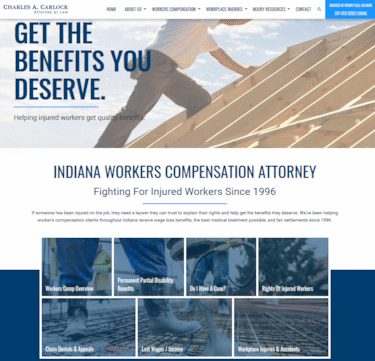 Indianapolis worker's compensation attorney, Charles Carlock, launched a new website last month, working closely with the Marketpath Web Services team, who provided website design, development, and strategy for the project. The new website highlights Charlie's experience practicing law since 1993, and representing injured workers throughout the state of Indiana since 1996. In addition to providing details related to the law firm's injury law and worker's comp legal practice, the new website provides useful resources to assist Indiana residents in the unfortunate event they have a workplace accident or injury.
The website also includes a modern, mobile-friendly design, as well as a number of creative and useful features. Attorney Charlie Carlock had this to say about his new site and his experience with Marketpath.

"The Marketpath team is great to work with! They are professional and extremely knowledgable regarding web technology and digital marketing. They spent a great deal of time working with me to understand both my practice area and clients. I'd strongly recommend Marketpath for web design and development, as well as search optimization and digital marketing services."

Resource Library for Injured Workers
This is much more than just a typical lawyer website, as it provides countless resources for injured workers and their families, which is extremely useful when they are going through the stress of injury or illness that may seriously impact their family. The site includes the Indiana Workers Comp Blog, with useful articles related to on the job injuries, the legal process in the state, and various issues related to Indiana workers compensation cases. There's also a Worker's Comp 101 section, which explains the basics of Indiana Worker's Compensation, including what injuries are covered, benefits and worker rights, and employer responsibilities. Finally, the resources area has a Workers Compensation FAQs are, where specific work injury and workers comp questions are answered to assist injured workers.
Case Results
In addition to the resources mentioned above the new Carlock Legal website includes specific case results and summaries from Indiana workers comp cases, in various regions, from various industries, and cases resulting from different types of workplace accidents.
Interactive Features and Enhanced Usability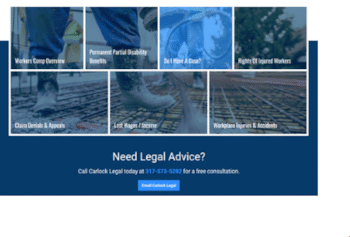 In addition to being rich in information, the Carlock website was also built with a number of interactive features that enhance the user experience, help visitors find information quickly, and highlight important content.
Content Management & Site Optimization
In addition to web design and development, Marketpath Web Services also provided search engine optimization (SEO) services as well as ongoing digital marketing services for the law firm. The firm also selected Marketpath CMS as its web content management platform, for ongoing updates and content marketing.