It's great to be recognized as a finalist for the 2019 Indiana Breakout Tech Cultures Awards!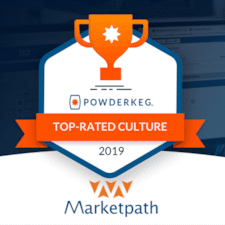 We have our team members to thank. Because of their responses to Powderkeg's Tech Census Survey, Marketpath has been selected to be one of the top 50 tech cultures. The considerations? Our employees were asked questions about company leadership, management, workplace, compensation, benefits, community involvement, social responsibility, diversity and inclusion, career path, and company mission.
Marketpath, Inc., located in Indianapolis, is a website marketing software and services firm. In addition to providing website design and development services, Marketpath is a leader in the web content management space. Marketpath CMS is a powerful, flexible, easy-to-use web content management platform for marketers, agencies, & developers.