Safety Resources has been a long-time partner of Marketpath, and we were privileged to design and develop a new website! Safety Resources provides workplace safety solutions and services, including consulting, staffing, and OSHA training. Industries they serve include construction, electrical, and demolition, in addition to HR and facility managers in general.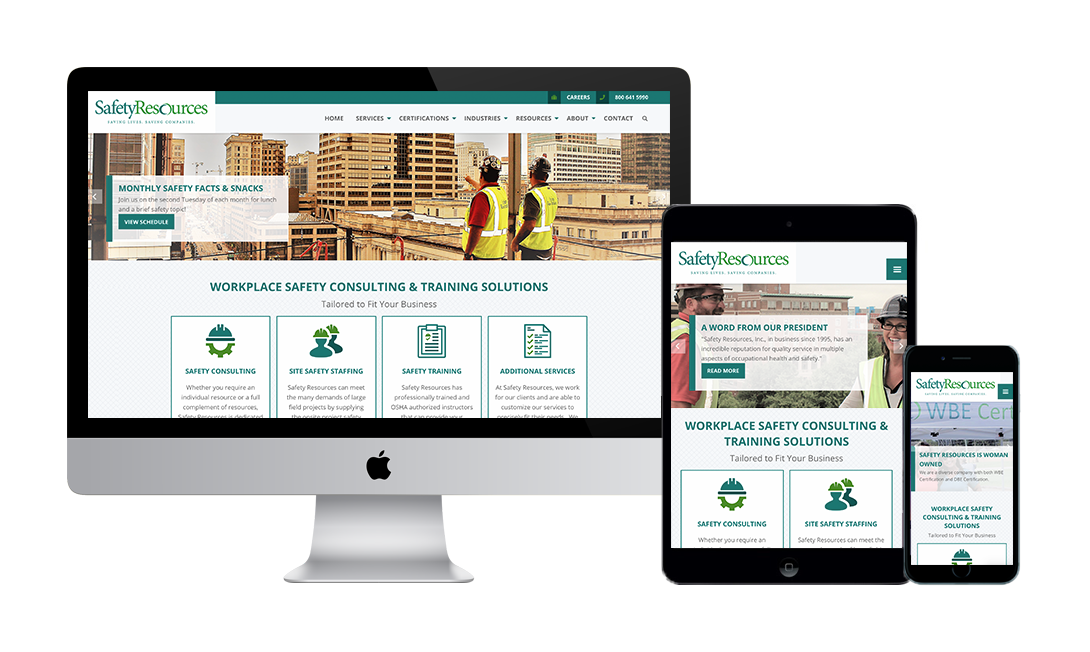 Safety Resources' new site will help them to differentiate themselves from the competition, allowing them to promote unique services including subcontractor management, OSHA training, gap analyses, site audits, and solutions to the most challenging problems -- all with a personal touch.
Safety Resources Website and Digital Marketing
While we had an established relationship with Safety Resources, this project, like all of our projects, started with a web marketing strategy to align both organizations on how to best create business value for Safety Resources. The Discover phase revealed several features Safety Resources needed:
Modernization of Website
Previously, photography was used to showcase Safety Resources' capabilities. With time, these assets became outdated. As part of the Design phase of this project, icons were designed and now serve as the look and feel for the brand. Icons offer timelessness, improve visitor usability since they are a universal communication mechanism, and support brand identity.
Updated Blog
As part of the Discover phase, the client requested the ability to stand out from the competition and show their personality. What a great match for the new "Safety News, Tips & Insights Blog" on their website. Their older site featured a basic news blog, but the new and improved blog featured a tag structure and sorting feature, an enhanced look and feel, an a new focus on content to position the organization as a leader in Safety Services . The new tagging and sorting additions improve visitor usability, while also enhancing site visibility (optimization). Yep, that right. If you didn't know it yet, blogs are a great tool for enhancing website search engine optimization (SEO).
Nationwide Reach
Headquartered in Indianapolis, Safety Resources is established in the Midwest, but now seeks to serve clients across the nation. Safety Resources holds safety certifications in 16 states, and continues the accreditation process in many other states. Their new website features several inbound marketing and lead generation tactics.
Content on their website is tailored to their keywords for optimization
Blogs are posted at least once a week to provide fresh content (which search engines constantly seek out)
Blogs also include 1-2 long-tail keywords to match the intent of the visitor
Numerous options for resources are provided (blog, events, case studies, monthly safety topics)
Events are promoted on their website, like their Monthly Safety Facts & Snacks
Effortless Content Management
Safety Resources offers over 30 consulting, training, and other targeted services. Their site promotes the breadth of their offerings throughout, including various safety resources. Safety Resources now has the ability to add or edit information once on the back-end, and for this information be updated elsewhere on the site automatically. Marketpath CMS makes their ongoing content management effortless.

Responsive (mobile-friendly) Design
The new website also has a clean, responsive design that resonates with their brand. The new site was developed using a responsive (mobile-friendly) web design framework so that any user on any type of device (phone, tablet, etc.) will have the best user experience while navigating the site.


Search Engine Optimization (SEO)
The site was developed to attract Safety Resources' various audiences and improve reach nationally. In addition to the measures mentioned above, Marketpath performed research to determine how each audience searches for the diverse services offered, and then developed the website with our own search engine optimization (SEO) best practices to increase the site's visibility.
Questions / Need Assistance
If you have questions about Safety Resources or any of their safety services tailored to fit your business, please reach out to Safety Resources. For questions about website design and development strategies, please contact Marketpath today.