Indianapolis-based CRM Workforce Solutions, a national environmental staffing agency, launched a new website in late 2021, selecting Marketpath CMS for their web content management platform, and providing their business with greater website speed, capabilities, and flexibility for ongoing enhancements in the future.
CMS Features Support Enhanced Staffing Website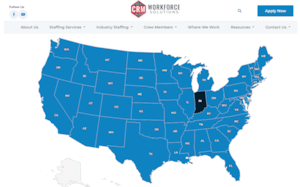 The new site leverages Marketpath's custom datastores to manage their national staffing services coverage map, state by state service offerings, as well as regional offices, and managers. By leveraging this custom database functionality, they can easily make changes to content in four related databases, without having to worry about layout and styling, as well as multiple areas of the site that are impacted. Over time, this capability will save significant site management time, while allowing content to be updated in near real-time.
The new site also utilizes Marketpath snippets for re-usable calls-to-action (CTAs) that can be leveraged throughout the site, and easily changed to test conversion effectiveness, for constant improvement. Content tagging is also used for blog posts and other reusable content (projects, videos, etc.) that can be featured based on specific tags throughout the site. Additionally, the website uses speed optimization, image compression, and advanced image preset features, significantly enhancing the website speed and load times, as measured by GTMetrix, to improve visitor usability, as well as to enhance the site's SEO speed factor. The features mentioned above have allowed the environmental and asbestos abatement staffing agency to enhance their visibility on the web, while offering better information and an improved user experience for both their environmental staffing clients, as well as construction job seekers.
Web Design and SEO Services
In addition to leveraging Marketpath's fully-managed content management platform, Marketpath Web Services provided digital strategy, custom design and development, and search engine optimization (SEO) services for the project.
Contact Marketpath today to learn how they can help with your next web or digital project.