We've recently been fortunate to work with Indianapolis based development company, BWI (Black and White Investments), on the launch of a website for a unique development project they have been leading. The innovative project, which stems from a partnership between BWI, Indiana Housing & Community Development Authority, Energy Systems Network (ESN), and two non-profits: Joshua's Hand and Building and Impacting Communities, Inc., (BIC) is very exciting because it may become the model for future low-income development and urban revitalization initiatives.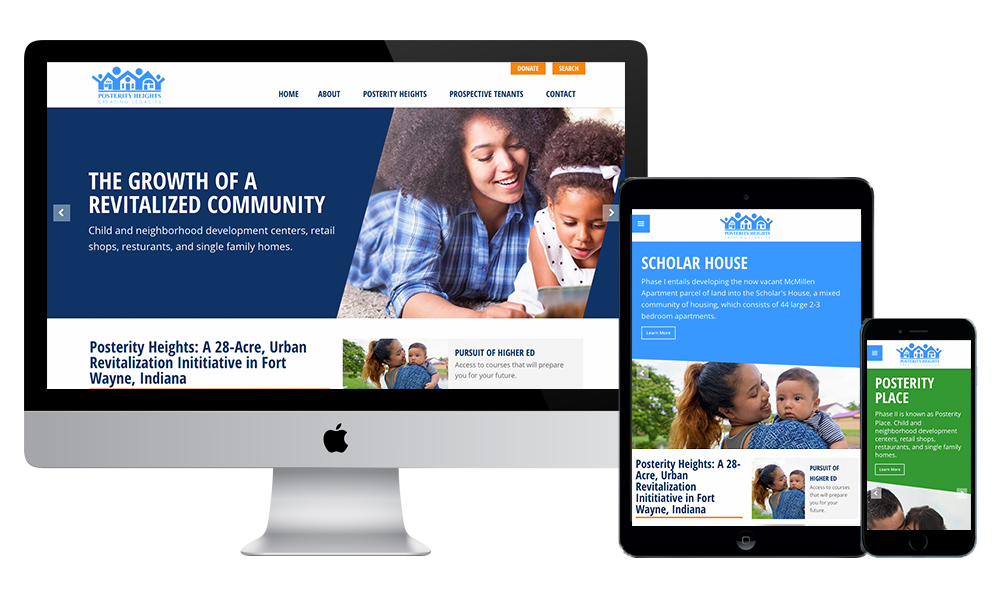 The project, named Posterity Heights, is a transformative, community revitalization housing and mixed-use community development project for low-income families in Fort Wayne, Indiana.
"According to the Indiana Housing and Development Authority, the project has state of the art and innovative components that will be the first of its kind in the United States."
Cutting-edge features include energy efficient and technologically innovative development that will feature an ecological and comprehensive education center of community-based programs and services for low-income and underserved families. By integrating community-based supportive services and job creation solutions with cutting edge technology and energy efficiency models, Posterity Heights is poised to become a model of critical-scale, community-based development.

Housing for Low-Income, Single Parents Getting an Education
The first phase of the project is called Posterity Scholar House, which serves as an apartment community designed for low income, single parents enrolled in college, helping to assist them on a pathway to self-sufficiency. The project consists of lots of cool features and amenities including:
Educational services and career development including onsite enrollment, advising, financial aid, access to introductory student courses, tutoring services, and employment information via educational partnerships with Indiana Purdue University Fort Wayne, Ivy Tech and Indiana Tech in development
An early childhood learning center and child care
Connected Community - tenant access to everything related to Posterity Scholar House via a community smart phone app
Smart Energy Program to provide eco-friendly, energy efficient savings, including high-tech 1MW solar array and the ability to control and monitor resident energy usage via the connected community smart phone app
Shared Ride Program with electric rental vehicles and a high-tech solar array, which can be reserved via the connected community smart phone app
Includes Section 8, low-income housing tax credits from the Indiana Housing Authority.
Their mission is the following:

Posterity Heights is a system of integrated partnerships and services formed to produce healthy social economic conditions that create legacies while building a community worth coming home to.
Posterity Heights Website and Digital Marketing
Because of the innovative nature of the Posterity Heights project, as well as its potential to have a very positive impact on the State of Indiana and our citizens, our team at Marketpath has been very excited to participate in helping to market Posterity Heights and give them the tools to grow and adapt through the projects various phases.
On our end, we worked closely with BWI, Heard Strategies, and Joshua's Hand to develop the web marketing strategy and to develop a new, inviting, and informative website to showcase Posterity Heights and its four phases. The project included a custom website designs and website development in addition to the following new features: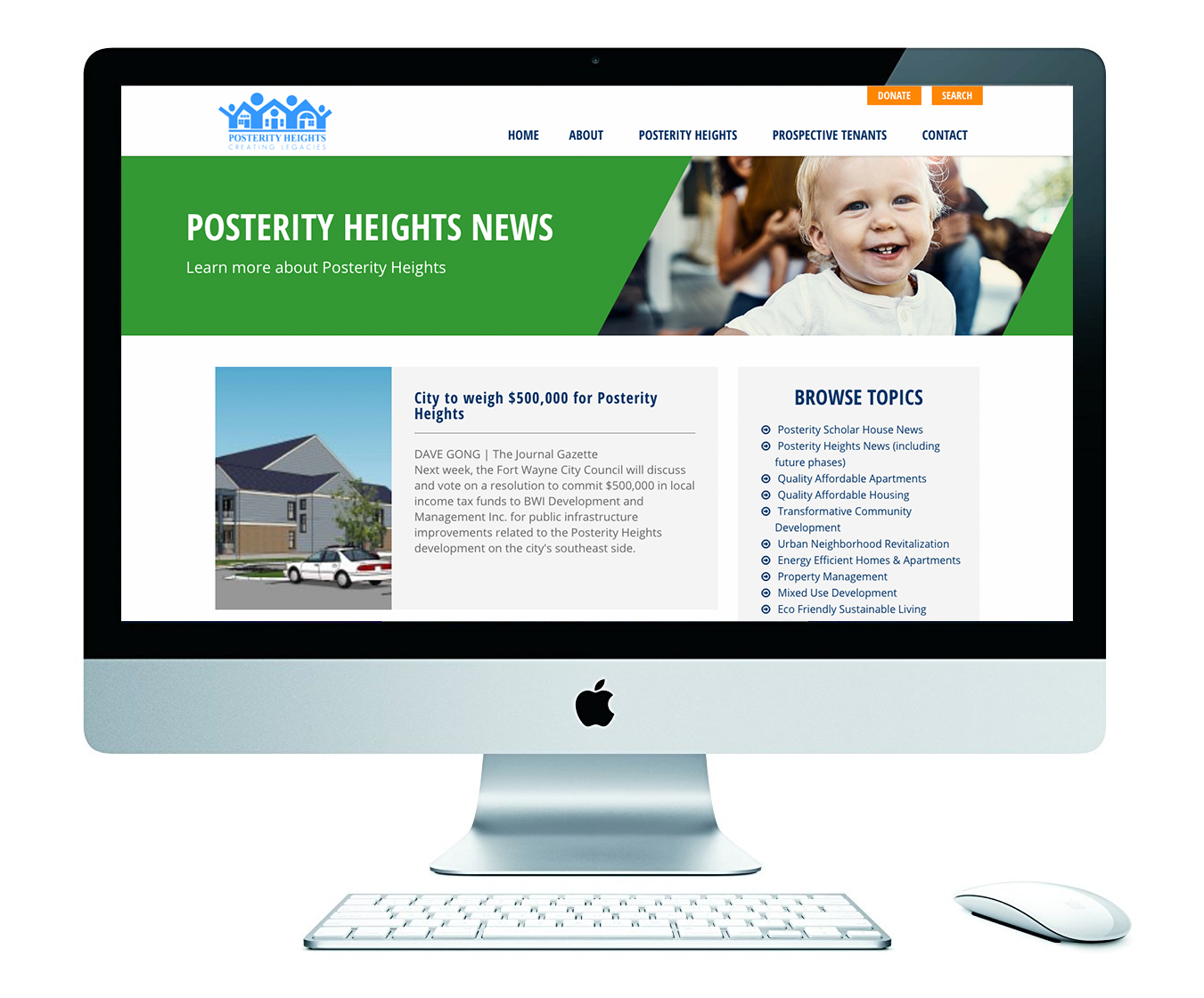 Development PR and Tenant News
The site was developed to allow PR, and well as individual and commercial tenant news, with the flexibility to target different tenant types (by phase, housing unit) with different news, depending what area of the site your are visiting.
Flexible Content Areas (that will change)
The site was built with flexibility in mind, as the development project just recently launched and does not yet have active tenants. Because of this, we build in flexible content snippets, for additional innovations (like their shared ride feature) that will come further down the road of the project and that allow easy viewing of content associated with specific project phases, without having to go back and forth between different pages. The site also includes the flexibility to add different pages types/designs as needed.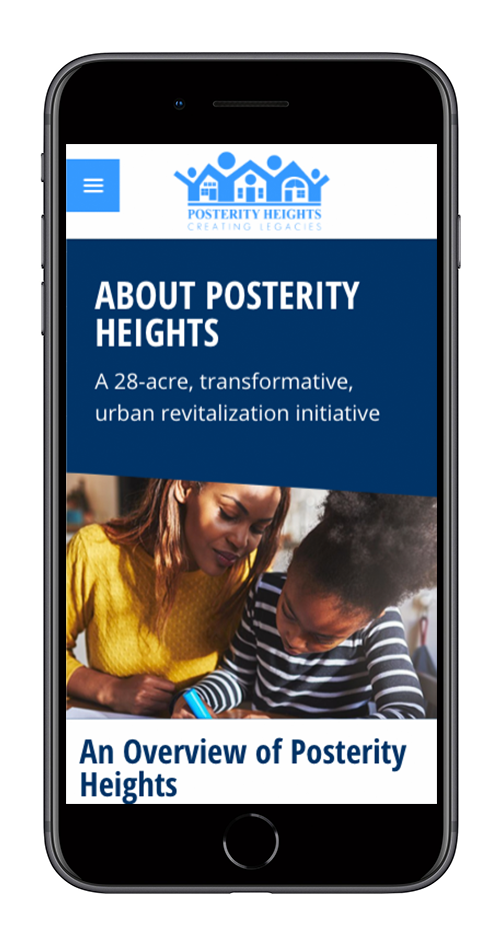 Responsive (mobile-friendly) Design
The new website also has a clean, responsive design with vibrant photos that help tell the Posterity Heights story.. The new site was developed using a responsive (mobile-friendly) web design framework so that any user on any type of device (phone, tablet, etc.) will have the best user experience while navigating the site.
Easy to Use Content Management & Marketing
The Posterity Heights website leverages the new Marketpath CMS, which allows the team to make easy website updates, while leveraging the powerful and flexible content management system to support their ongoing content marketing plan.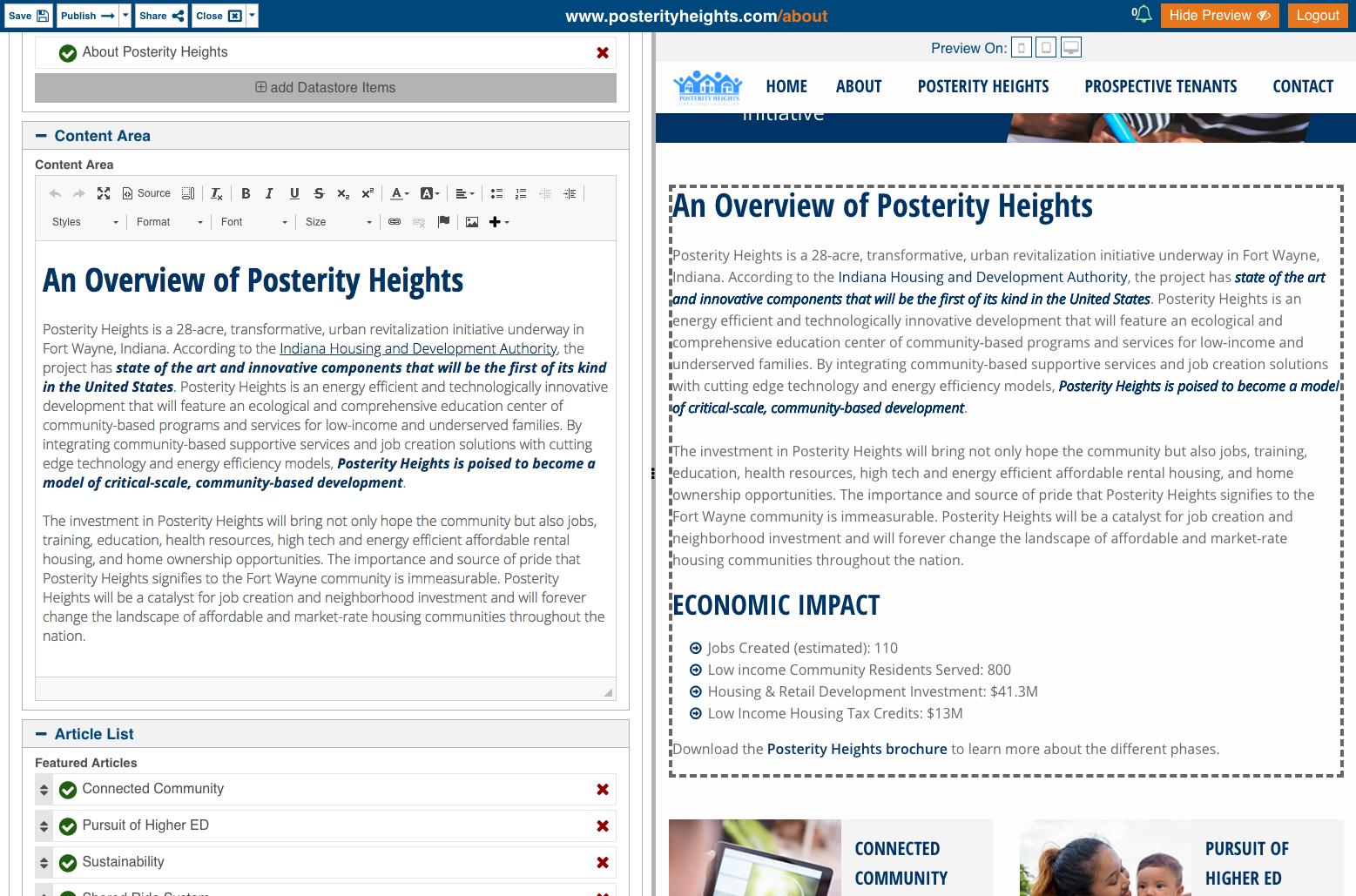 Search Engine Optimization (SEO)
The site was developed to attract various audiences and provide visibility around Fort Wayne, as well as throughout the state, including low income prospective tenants that can benefit from this innovative program, commercial tenants and retailers that will come on board in future phases, as well as government officials, nonprofits, and businesses that want to learn more about Posterity Heights, so they can consider bringing similar projects to other cities and regions of need. Marketpath performed research to determine how each audience searches for various programs and services offered via the Posterity Heights partnership, and then developed the website with our own search engine optimization (SEO) best practices to increase the site's visibility.
Questions / Need Assistance
If you have questions about Posterity Heights or their community revitalization efforts, please reach out to BWI. For questions about website design and development strategies, please contact Marketpath today. Thanks.